21 must-try Vietnamese dishes
In Vietnam, before eating we say "Chúc ngon miệng!"– meaning 'enjoy your meal' (but of course you will.)
While Vietnamese cuisine abroad still flies under the banners of phở and bánh mì, the full spectrum of Vietnamese food is a symphony of delightfully textured, bright and piquant flavours.
The Vietnamese love their food and cooks make the most of each region's abundance produce and special ingredients to make their meals. Northern food is known for its simplicity; the dishes of central Vietnam are generous in spice and quantity; Southerners like to add sugar. Wherever you travel across the country, you're sure to eat well.
1. Phở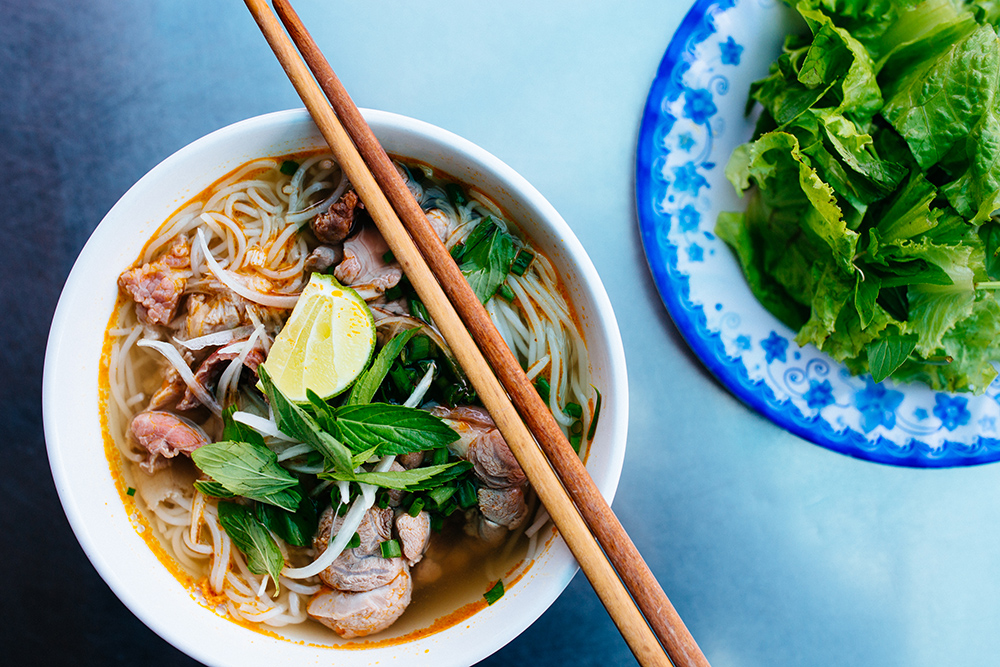 Representing the legendary royal cuisine of Hue, bún bò huế is a mighty demonstration of both beauty and taste. The alarmingly red broth is the first signal of its striking flavour—the result of hours spent simmering beef bones and stalks of lemongrass to produce a citrusy concoction. Flash boiled vegetables paired with tender beef shanks give this dynamic affair added vivacity. This may be a beef soup—the word bò is Vietnamese for beef—but don't be surprised when you see sausage lurking in the bowl. Chả lụa is a sausage made of ham paste that has a texture reminiscent of tofu.
Try it: Quan Bun Bo Hue, 19 Ly Thuong Kiet Street, Hue
5. Cao Lầu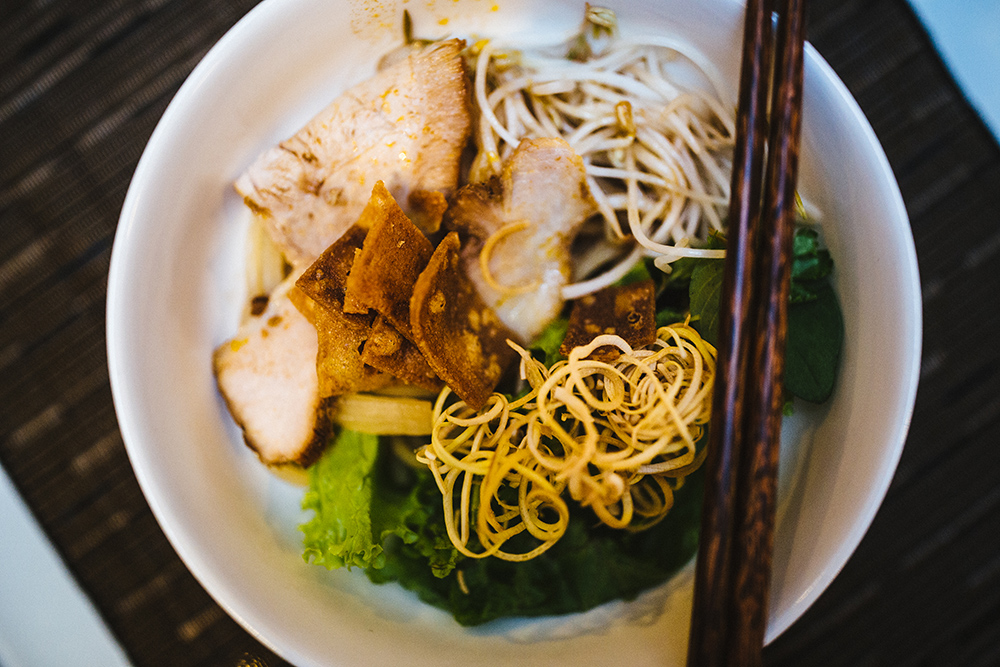 A dish unique to Hoi An, cao lầu is beyond compare. Saluting the history of the coastal trading port from where it originated, this sensuous bowl of noodles is a fusion of Japanese, Chinese and Vietnamese influences. Slices of Chinese barbecued pork are fanned over cao lầu noodles. These thick noodles, with the same heft as Japanese udon, are then doused with a spice-laden broth and topped with fresh herbs and crushed pork cracklings. Authentic cao lầu is said to be made from the water found in the thousand-year-old Ba Le well in Hoi An, rumored to have magical properties.
Try it: Thanh Cao Lau, 24 Thai Phien St, Hoi An
6. Bánh Tráng Nướng
A streetside snack, bánh tráng nướng is a widely popular treat among youth. The dish is an example of new age Vietnamese cuisine, completely unrecognizable to older generations. All you need is a charcoal brazier, rice paper, and buckets of inexpensive toppings like minced pork, green onion, pork floss and dried shrimp. Nicknamed the "Vietnamese Pizza," a thin sheet of rice paper acts as the base. It is placed on top of a charcoal burner, slathered with butter and immediately a quail egg is cracked over the sheet acting as a glue for any additional toppings. When it's ready, the vendor will drizzle a generous amount of hot sauce and serve it to you folded like a crispy taco.
Try it: Turtle Lake Roundabout (Hai Con Rua), Ho Chi Minh City
7. Mì Quảng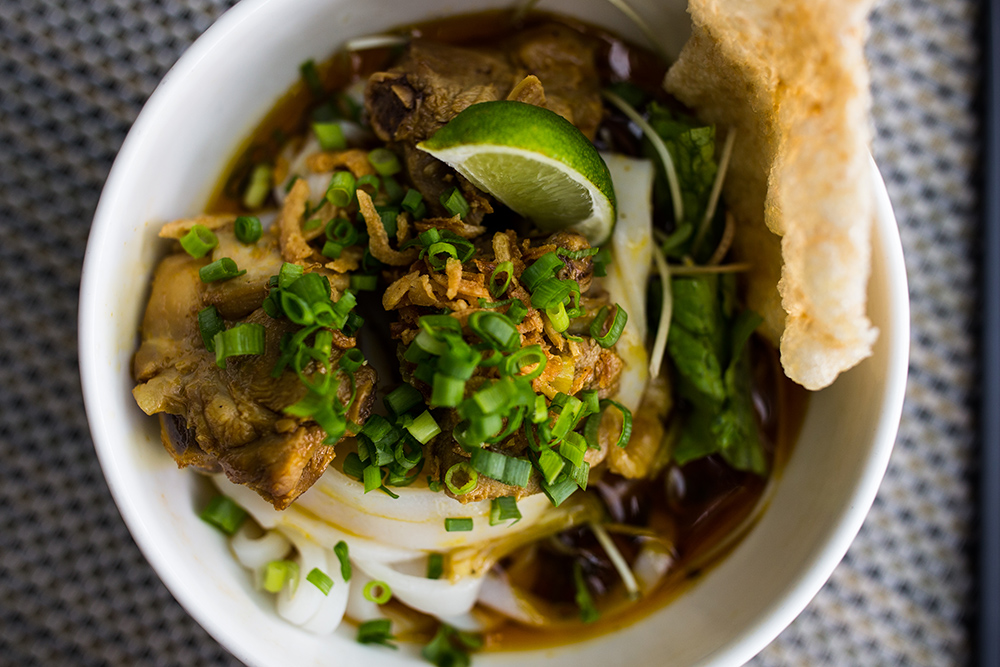 Part soup, part salad, mì quảng gracefully pulls off an identity crisis. That being said, don't let the elegance of mì quảng fool you. This light and springy noodle dish from the Quang Nam province in Central Vietnam is street food. The vibrantly yellow noodles owe their rich colour to the turmeric-infused broth made rich with peanut oil. Only a ladleful is used in the making of this "soup", which can be topped with anything from shrimp and chicken to pork belly and snakehead fish. Eat mì quảng with sliced banana flowers, Vietnamese coriander, basil and bánh tráng me, toasted sesame rice crackers.
Try it: Quan Mi Quang Ba Mua, 95 Nguyen Tri Phuong, Chinh Gian, Thanh Khe, Danang
8. Bánh Xèo
Bánh Căn
Bite-sized savoury pancakes bánh căn are a beloved south-central speciality. Made from a combination of rice batter, a cracked quail egg and green onions cooked over flame in an earthenware grill, each bite is more satisfying than the last. Traditionally served plain, bánh căn is now topped with either shrimp or pork and dipped in a bowl of broth loaded with green onions and a few floating meatballs.
Try it: Phan Rang, 106 Trương Định, Phường 9, Quận 3, Ho Chi Minh City
15. Hủ Tiếu Nam Vang
This is the standard street food item in the south. The Vietnamese version of the kuy teav in Cambodia and guay tiew in Thailand, hủ tiếu is a bowl of noodles served either wet (nước) or dry (khô). Typically, an opaque broth made from pork bones is eaten with hủ tiếu noodles. The definitive rendition of hủ tiếu is Hủ Tiếu Nam Vang. The recipe calls for pork on the bone, boiled liver, a quail egg and some shrimp. If you're squeamish, ask them to hold off on the congealed pork blood chunks, which make their way into a bowl every now and then. The peppery broth speckled with chopped green onions also has a noticeable sweetness to it, coming from the addition of rock sugar.
Try it: Hu Tieu Co Huong, 152/7/2 Ly Chinh Thang, Ward 7, District 3, Ho Chi Minh City
16. Chả Cá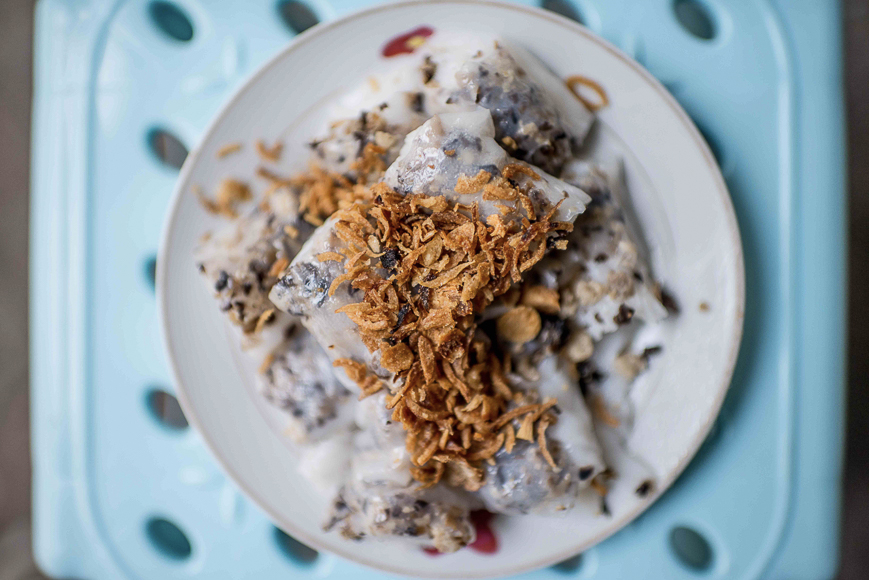 Made from large round sheets of steamed rice flour, gathered around minced pork and wood-ear mushroom and gently folded and chopped, bánh cuốn is a delight. This savoury treat is always made fresh to-order, topped with dried shallots and served with a side bowl of fish sauce with pork sausage. Enjoy it for breakfast, like a local, and feel free to add fresh herbs to the mix and brighten up your bite.
Try it: Bánh Cuốn 101 Bà Triệu, 147 Triệu Việt Vương, Hai Bà Trưng District, Hanoi
19. Bún Chả Cá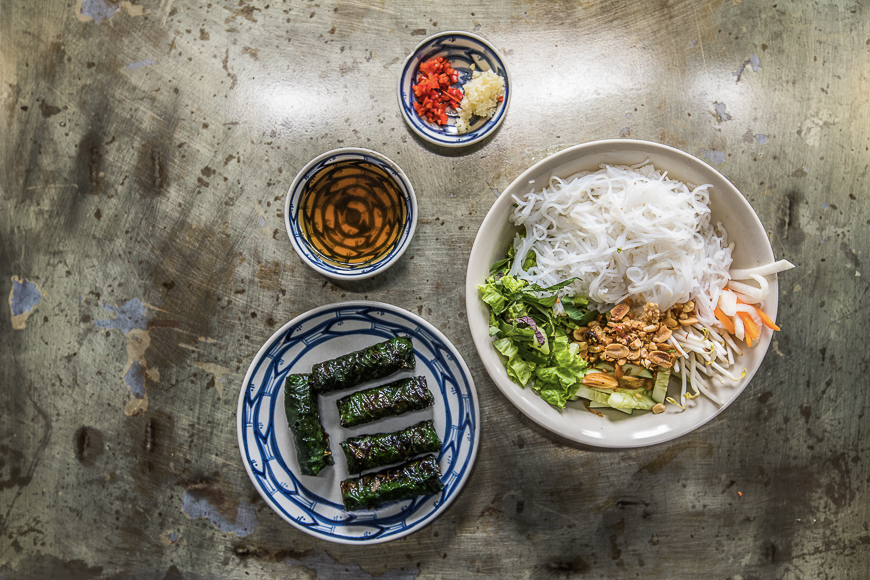 A seared, crispy, leafy layer encases minced beef, garlic and shallots, sealing in juicy bites of bò lá lốt. This southern speciality is unexpected, with a merry meat mix rolled up in betel leaves like a small cigar, grilled over charcoal. The result are stupendous, peppery bursts of flavour that can be enjoyed with noodles or rolled up with rice paper and fresh herbs. Playful textures, dipped in a spicy fish sauce make bò lá lốt a must-try for meat eaters when in Vietnam.
Try it: Cô Liêng, 321 Võ Văn Tần, District 3, Ho Chi Minh City
21. Chè
Want more Vietnam travel ideas? Sign up for our newsletter to receive our best stories in your inbox.